Wireless asset tracking hardware
For businesses with a high volume of assets which frequently move around job sites and warehouses, trying to keep track of assets has been an ongoing struggle. This creates waste in both time and cost as replacement assets are purchased or alternate assets are shifted from other sites to cover for those that can't be found.
EROAD Where is an affordable asset location tracking solution which tracks moveable assets through our unique mesh network in Australia and New Zealand.
Choose from either the EROAD Where tag for your larger moveable assets or the Where Mini tag for your smaller, high value assets.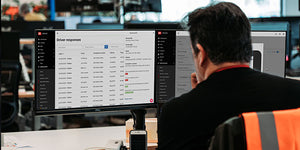 EROAD Where Tags
Our sensors can be attached to any asset bigger than the size of your palm. This allows you to know your asset's location and condition.
Unique mesh network
Our unique mesh network is made up of Ehubo2 units on vehicles travelling around Australia and New Zealand. EROAD Where tags are set to 'ping' when an Ehubo unit is within range. This pings the location of your asset back to MyEROAD.
Bluetooth technology
Our Where and Where Mini Tags use low energy Bluetooth technology to send this information via our Mesh network to MyEROAD so you can stay up to date on the whereabouts of your assets.
EROAD Where and MyEROAD Apps
Our asset and fleet tracking software is available on your desktop or mobile phone.
Battery to last
All of these qualities are paired with an up to 5-year battery life (depending on the tag size), to ensure you reap the benefits for the same period as your assets' life.
EROAD Where can help with:
Improved visibility over your assets
Improved asset utilisation
Reduced risk of lost productivity
Reduced cost of not knowing where your assets are
Ability to check assets in and out of job sites using geofences
Proof of delivery and billing
Ability to produce asset reports
"EROAD Where tags are perfect for all our non-motorised, non-powered items and attachments," Reilly says. "It's hard to justify spending hundreds of dollars to install something when you might not want to know anything more than where it is." At $5 a month, EROAD Where offers them the price and functionality they're looking for. "For the money invested, it's a very valuable tool."
- Ken Reilly, Asset Manager, Porter Hire Group
"We've got 1741 assets that we've tagged. Being able to know where they are, so we can reposition those assets back to Auckland to get all our freight out is key."
- Tristan Bernie, National Logistics Manager at Aramex New Zealand
"The main reason we invested in EROAD Where tags was to reduce our equipment rental costs. We have saved $200 a day in rental costs, and I am sure we will see substantial cost savings going forward. For Marais Laying, EROAD Where tags enable efficient use of our assets."
- Adrien Merceron, National Manager at Marais Laying